Trim Levels of the 2020 Jeep Gladiator Atlanta GA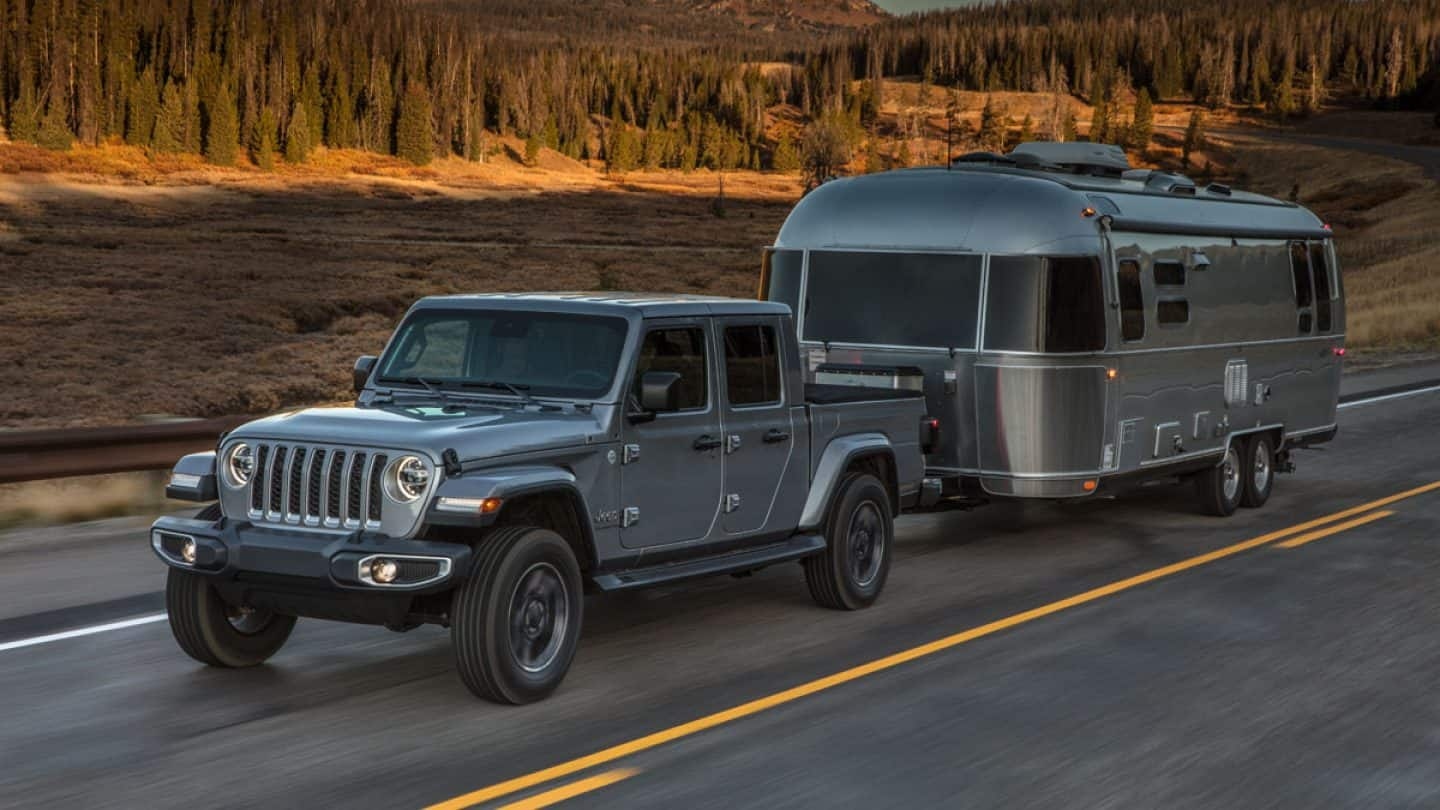 Fresh out of the gates is the brand new 2020 Jeep Gladiator which has a bold unique look fusing the performance and bed of a truck with the body cab of an SUV. This next-generation vehicle offers impressive tow-capacity utilizing a solid powertrain pushing itself to the front-line of the market. Jeep known as a brand for off-road enthusiasts brings their staple 4×4 capability giving the Gladiator the power to explore through tough terrain and help get the job done. The features supplied through the trim levels also have excited starting off with a solid kit of technology and comfort; continue reading to find out more as we dive deeper into our review of the 2020 Jeep Gladiator and its trim levels.
What features are offered standard at the base trim level?
Jeep brings a solid starting platform of trim options with the 2020 Gladiator bringing in 17-inch steel wheels, tires that are tapered for all-season performance, manual windows and door locks, tilt-telescoping steering wheel for comfortable adjustment, a standard cruise control system, and a full infotainment system with 5-inch central touchscreen display, rearview camera for convenience, Bluetooth integration and an eight-speaker sound system. The Gladiator also comes standard with a set of removable doors, a fold-down windshield, a 5-foot cargo bed, and a Class II bumper hitch with anti-sway trailer control.
How do the higher trim levels enhance the driving experience?
As the trim levels progress, Jeep upgrades their current list of standard features bringing in more cutting edge technology and more excellent features. Starting off with the second trim level, the Sport S trim, you will find upgraded metal alloy wheels, powered windows, powered door locks as well as tailgate locks, power-adjusted heated mirrors, as well as convenient auto-dimming rearview mirrors. The Overland trim is the next level, bringing in larger 18-inch alloy wheels with an upgraded design, automatic temperature control, tinted privacy rear windows, automatic headlights, LED ambient lighting in the footwell, a steering wheel wrapped in leather, a larger 7-inch touchscreen display with additional USB ports, and a 110-volt outlet that can power small appliances. The Rubicon trim is the highest level trim bringing Jeeps legendary off-road capability to the forefront with a body that is higher off the ground with modified fenders to have enough room for their massive 33-inch all-terrain tires. The Rubicon also brings in locking front and rear differentials, disconnectable front stabilizer bar, upgraded shock absorbers, and body reinforcements with rail coverings and skid plates to be able to tough out even the hardest terrain. There are a number of optional packages that enhance the convenience and improve the performance of the lower trim levels of the Gladiator; ask our dealers to learn more about how to customize the Jeep Gladiator just for you!
What safety features are included with the 2020 Gladiator?
Just as the Gladiator offers a great spread of features to improve comfort and convenience, Jeep also offers over 80 safety features to help give you ease of mind and confidence while on and off the road. Safety features include blind-spot monitoring, rear cross-path detection while on the road, a Parkview rear backup camera utilizing dynamic grip lines, adaptive cruise control, electronic stability control paired with electronic roll mitigation, forward-facing off-road camera to be able to scope out the terrain, trailer sway damping system to help drive while towing, and many more on top of these.
Given the new generation of vehicles that are hitting the road, we are impressed by the new bold look and functionality of the 2020 Jeep Gladiator. Jeep brings it's classic look and design to the cab while putting in the powertrain and back bed of a solid truck bringing rock-solid off-road capabilities and heavy tow-capacity. You can check out our new selection of Jeep Gladiators by clicking here; if you want to experience this great build for yourself, give us a call today to schedule a test drive and find out more about the 2020 Jeep Gladiator!